The studio
"Beauty is the peak of functionality.
If something is beautiful, it is functional. I don't separate beauty and functionality"

Alvaro Siza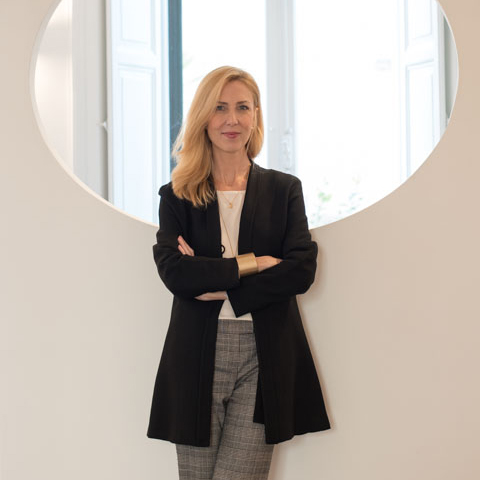 Silvia Stella Galimberti is an Architect and Interior designer with more than a decade of experience. The Studio has italian roots with international wings, it is based in Rome, in the historical stately neighborhood of Parioli and is specialized in high-end residential project.
The Architect's approach has always been to deal with people with strong personalities and to be involved in very challenging projects. All the interiors that Silvia Stella designs reflect the attitude of the clients through her unique and recognizable style. Space, furniture and architecture are inseparable in her interior projects, whose distinctive trait combine timeless sophisticated ornate decor with a vibrant, modern edge, clean architectural lines with the typical Italian attention to details, design and stylish placement of art to achieve cozy and luxury spaces.
Silvia Stella believes that every interior design project is like an exciting journey to be undertaken with the clients. All her projects have provided a solid and extensive experience to work for both contemporary or historical buildings in which she preserve the old spirit while renewing them.
The use of always new coloured schemes and motifs are the reflection of a new approach of awareness to the infinite ideas and inspirations that nature offers. She shows just how densely, lavishly differentiated patterns and colours can be combined in layerings of wallpapers, fabrics and wall colours giving personality to residential or commercial spaces, regardless the size or budget the project concerns.
Good projects are all about happiness! A nice home renovation helps to give us a vivid picture of what we might or would like to be. Helping to make the right choice! Living in a pleasant environment surrounded by aesthetically beautiful objects can help us realize the desire to absorb its virtues.
About Stella
Silvia Stella is graduate at the distinguished Faculty of Architecture "La Sapienza" in Rome and she has been educated at "Oxford Brooks University" in Oxford. She has a Master's degree in "Architecture, Sacred Art and Liturgy" at the European University of Rome. Parallel to her professional activity in 2012 she found the ArchNouveau Studio, an Atelier d'architecture that on one hand consolidates its already established role in the world of interior, on the other it expands its activity in design and art. Silvia Stella shaped her taste living surrounded by the historical and artistic beauty of Rome where she borned, and Paris, her adopted town. Her projects are focussed on residential and includes also commercial and hotel design that have been featured widely in magazines and books.
Silvia Stella Galimberti has inherited the passion and the artistic talents of a long family cultural heritage. She is descendant of the Architect and sculptor from Florence Niccolò de Pericoli (1500-1550, who was the architect of the Boboli Gardens in Florence) of the architect and painter Gian Paolo Pannini (1691-1765 the founder of the Vedutismo artistic movement) and of the painter Silvio Galimberti (1869-1956), Dean of the 'Pontificia Insigne Accademia dei virtuosi al Pantheon'.